Adriene Mishler Interview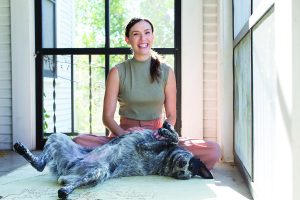 Interview with Social Media Sensation
Adriene Mishler
By Erica Mestyanek, Editor
Do you remember your first time? Feeling nervous, maybe anxious and wondering, "Am I going to do this right?" Now, get your mind out of the gutter…I'm talking about my first yoga class. It was a virtual class and it was called "Yoga with Adriene." I had not quite mustered the courage at that point to visit a local studio in person, so I opted to practice in the comfort of my own home. Fast forward to 4 years later, I better understand the practice and have my own interpretation of what yoga means for me. I practice in various studios and I still enjoy practicing at home as well. I had the chance to interview Austin native, Adriene Mishler and we are thrilled to visit with her again when she comes to Dallas.
When did you start practicing yoga?
I started practicing yoga as a young adult. I may not have been going to yoga classes initially, but as a thespian in Austin, Texas, we were doing many things with our bodies and our breath. Our warmup was all about being connected with the mind and body… even though at the time it was not considered a "yoga class". When I went to college, they offered an 8am Kundalini Yoga class in the same studio where I had my acting classes and it all felt very congruent, so I signed up. Here I am flapping my ankles and doing breath of fire as a young person, and then suddenly I felt joy, magic and love.
When did you decide to start teaching yoga?
For me, going to teacher training seemed practical. I was a very serious actor then, and I felt that would be a positive and healthy job to have. From there, I really fell in love. Looking back, when I was younger I wanted to be a school teacher or a doctor and I found through this journey that I really just wanted to help others. I wanted to help people find balance and healing.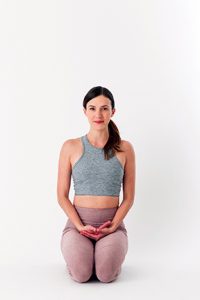 Does acting still play a part in your life?
It does, but I took two years off. I had a small role in Richard Linklater's film, Everybody Wants Some!! I also had a very small cameo role in American Crime which is also shot in Austin. With the exception of those, I took two years off to grow my "Yoga with Adriene" business and "Find What Feels Good." I wanted to be sure it was not mirroring or mimicking any of my colleagues. I have been very lucky to have a great business partner and friend on this journey with me too.
What one message would you like to share with everyone?
Everything is yoga. I know that may seem abstract, but for me, it is yoga and art. It's in my blood, it's the way I run. It may not be yoga and art for everyone but for me yoga is the way I walk, the way I see things. Sometimes it's hard to articulate how I feel about what yoga is, but I think that is why we show up for practice.
Tell me about your yoga tour coming up.
We are going to ten different cities, which is the most we have ever done. The idea, with respect to the practice and modern yoga, is to turn it on its side. To think outside of the box and create a unique yoga experience so then anyone can take what they have learned and "show up", whether at their local yoga studio or at home with "Yoga with Adriene" or hopefully both! I want this event to leave everyone feeling inspired, excited, interested, fulfilled, maybe shocked, and rich enough to leave them motivated to continue. When we come to Dallas, we will be at The Bomb Factory on Friday, October 13, 2017 and we start at 8:00am.
Join Dallas Yoga Magazine for the event and be sure to purchase tickets in advance to ensure entrance by visiting, www.thebombfactory.com. You can learn more about Adriene and her practice by visiting www.yogawithadriene.com.