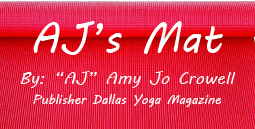 Get Poked
My Experience with Acupuncture
By: AJ Crowell, Publisher, Dallas Yoga Magazine
As I have gotten older I have discovered a more holistic approach to healing my body. I have learned to keep an open mind, listen to experts in the holistic field, ask questions, weigh my options and then make a decision. Recently, I was having lower back and shoulder pain and I found myself having difficulties in yoga class and had to make adjustments to the poses. My friend, Nena Watkins, who is an Acupuncturist encouraged me to make an appointment and visit her. I had always heard of others having wonderful results with acupuncture but I was still a needle virgin.
Nena is an expert in her field and explained acupuncture to me so I could understand the practice better. She shared it is an ancient form of Chinese medicine that is 1000's of years
old. It focuses on the theory of energy (chi) flowing through our bodies in channels called meridians. Acupuncture's philosophy is sickness happens when your energy is blocked or is off balance. An Acupuncturist is skilled at unblocking or assisting the energy to help balance itself.
The idea of an all-natural process with no chemicals ingested sold me on the idea. I was ready to try it. I had quite a few thoughts about what was going to happen racing through my mind and I realized most people often have the same apprehensions about acupuncture.  So I'd like to address these worries.
THIS SEEMS VERY ODD
As I laid there watching Nena get prepared, I thought this seems very odd that sticking needles in me is going to help my pain. I really don't understand how this really works. I glanced up at the light and realized I don't understand how electricity works but I rely on it every day. Who am I to question an ancient practice so many have benefitted from because "I don't understand it"? I realized I was not being very open minde
d so I laid back, relaxed and let the expert begin.
OMG! The needles are going to hurt!
I need to clarify my earlier comment about being a needle virgin. That's not entirely true…I have
tattoos so I assumed the needles would hurt like a tattoo gun. I couldn't be happier to report that the acupuncture needles are very, very thin and light and there was no pain involved. In fact, as Nena was explaining what she was doing and I was listening attentively I realized I already had several needles sticking out of me.  I didn't even feel them. After a while, I felt some of the needles had started to have a warm tingling sensation.
WHAT EXACTLY HAPPENS IN A SESSION?
Needles were placed in various parts of my body including my arms, back, shoulders, feet and ears. These are some of the comments I made:
"I feel high!"
"I feel like I'm going to float away!"
"My back pain is gone!"
"My shoulder doesn't feel tight and tense. It feels relaxed. I feel so relaxed."
IT'S A PROCESS
I have heard people say, "I went to an acupuncturist one time and it didn't work." Let's face facts, can you go to any type of a doctor and get fixed with one pill for something that has been ailing you for years? Of course not. Healing your body doesn't work that way. An acupuncturist will discuss your issues with you and then set a plan usually with a series of sessions.
With that being said, I'm happy to report my lower back pain has disappeared with one session. I can't believe it but…PUFF! It's gone. All it took was Nena putting a few strategically placed needles to open my meridians and PRESTO! It's gone. My shoulder has been a chronic issue for me for many years and feels significantly better and I have my follow up session scheduled for more treatments.
WHAT CAN ACUPUNCTURE TREAT?
I think the questions should be…what can't it treat? An acupuncture needle can have a variety of effects such as:
Muscle and facial tension release
Increase blood flow and circulation
Ignites the immune system
Inflammation reduced
Releases endorphins (related to my comment, "I feel high!")
Converses with the nervous system
Jump starts the parasympathetic nervous system
Balances hormone levels
Assists with allergies, sleep and digestive issues
WOULD I RECOMMEND ACUPUNCTURE?
A huge YES! I couldn't have had a more incredible experience. I felt more energy, my back pain was completely gone and my shoulder pain significantly decreased. I was completely amazed with the results. The only regret I had was that I had not tried it sooner.
But you don't have to trust me…give it a try yourself and find your own results. So, open your mind and GET POKED!
Nena Watkins is a licensed Acupuncturist and can be found at Oak Cliff Acupuncture in Bishop Arts District. 208 S Madison Avenue, Dallas 75208. Call 214-840-3445 to schedule your appointment.