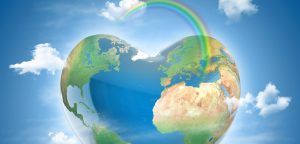 The Gift of Being Present
By: Kenny Kolter, Gong Meditation
When shocking, unfortunate and tragic news unfolds like the events in Charlottesville in August, I often am at a loss for what to say, how to put things into perspective or how to feel. The media seems to be fueled by repeatedly showing images of violence and unrest and stories designed to amplify our fears. I imagine many of the folks reading Dallas Yoga Magazine feel the same. Normally I write about the work I am blessed to share in using sound as a vehicle for relaxation, self-expression and transcendence; however, in light of recent events, I have something to share that may offer some of you a new tool in your tool belt to better cope with the challenges of our media driven society. I'll try to keep it short; these are ways that help me to deal with the uncertainty and chaos that can filter into our lives.
First of all, if you are feeling agitated and unsettled by the news on TV or online, turn it off. It seems to me you can get the news headlines in a few minutes, gather the information you need and move on. Get to your mat, go outside and grab some nature, move your body, grab a book or a podcast (In my case, bang a gong – Hah!). Sink into a project or an interest that brings you satisfaction, something that you can get lost in. Creativity is a tremendous cure for many things.
Call or visit in person with a friend, family member or co-worker that you trust and confide in them what you are thinking and feeling. Trusted family and friends will appreciate that you are reaching out. Sometimes simply talking things out and through can make a huge difference. Those of you that know me know that I'm a talker. I process my emotions and thoughts through letting it out verbally. I try to make a point to never 'dump' anything on anyone. It's more of an exercise that I know that works for me. Through that process, I can let go of my anxiety and more often than not I gain insight and perspective from whomever I talking with. Through productive conversation and active listening, I walk away feeling more connected to the person I'm sharing with as well. And that's a real bonus.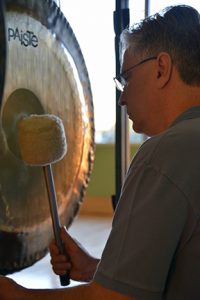 Several years ago my buddy Frank Panek shared this question with me, "Have you ever given yourself the gift of being present?" I asked him, "What do you mean?" He said "Be fully present with whatever you are feeling in the moment. Be angry. Be sad. Grieve. Just be with it, don't judge it, don't try to fix it. Give your self the gift of being immersed in it for a few minutes. Then shift your thoughts and feelings to a better place. Think about what brings you joy, what makes your heart sing. Be fully present with all of that too. Give yourself permission to feel it all. Do this regularly and with focus and you'll notice that by allowing yourself to feel the full range of emotions, your awareness will gravitate towards what brings you joy." Now I realize that this may not work for everyone, as I said these are tools to try on. Maybe you have some tools you'd like to share with me? I would love to hear them.
When I'm feeling challenged I think and feel about all the good people in my life and all the good they are doing in the world. Like being loving parents and partners. Like being creative and expressive people sharing their art, their hearts, their words. Like being good shepherds of our earth. This is what keeps me sane – knowing that there are amazingly awesome folks out there demonstrating kindness, compassion and caring in their everyday lives.
Thanks for listening.
Kenny Kolter September Events:
Sept 2nd – I'll be with Summer Lynn Smith of Yama Yoga at Dallas Free Day of Yoga promoting her documentary "Yogi in the Bible Belt"
Sept. 3rd – 3:00pm Gong Meditation and Restorative Yoga with Lia Mata At Sacred Soul Yoga in Hurst
Sept.7th – 6:00pm Gong Meditation & Reiki in Spanish with Farahana Surya Namaskar at Cancer Care Services in Fort Worth
Sept. 8th – 6:30pm Gong meditation at The Dallas Yoga Center
Sept. 9th – 6:00pm Restorative yoga, Reiki and Gong meditation at Temple Road Yoga in Fort Worth with Angel
Sept. 10th – 6:30pm Restorative yoga and Gong meditation at The Salt Cave in Southlake with Logan Bennett
Sept. 12th – 6:00pm Gong Meditation & Reiki with Farahana Surya Namaskar at Cancer Care Services in Fort Worth
Sept. 13th – 10:00am Drum Circle at Methodist Carleton in Duncanville
Sept. 13th – 7:00pm Relax & Restore with Lisa Ware at Yoga 4 Love in Ovilla
Sept. 14th – 12:00pm Gong~Movement~Meditation with Allison Fulmer and Nichole Shaw in South Lake ( message me for location details )
Sept. 15th – 6:00pm Birthday Bash Celebration ~ Restorative yoga, Reiki and Gong meditation at Blue Anjou with Lisa Nicholson followed by a reception afterwards to celebrate 10 years of Blue!
Sept. 16th – 6:30pm Slow Flow Yoga and Gong at Karmany Yoga in Fort Worth with Elyse
Sept. 17th – 1:00pm Gong meditation & yoga at Yama Yoga with Summer Lynn Smith
Sept. 18th – 10:00am Gong Meditation & Reiki for staff with Farahana Surya Namaskar at Cancer Care Services in Fort Worth
Sept. 19th – 6:00pm Gong Meditation & Reiki with Farahana Surya Namaskar at Cancer Care Services in Fort Worth
Sept. 20th – 7:00pm Gong~Movement~Meditation with Allison Fulmer and Nichole Shaw in South Lake ( message me for location details )
Sept. 21st – 10:00am Drum Circle at Methodist Carleton in Dallas
Sept. 22nd  – 6:30pm Gong meditation at The Dallas Yoga Center
Sept. 23rd  – Acupuncture and Gong meditation at The Dallas Yoga Center with Mark Hernandez ( time TBD )