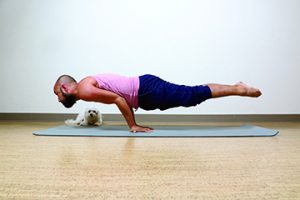 Ricky Tran
Interview By: Amy Jo "AJ" Crowell, Publisher Dallas Yoga Magazine.
Interviewing Ricky was a joy and an honor. Learning his philosophies and insight he has acquired over the years through his teachers, personal practice and teaching is fascinating. He has been versed in the true ancient practices of India that he extends to his students. He continues to seek spiritual answers and expand his yoga practice. This is what makes him a well-known and sought-after yogi not only in the DFW Metroplex but throughout the country. His studio is Krama Yoga Center located in Carrollton, Texas.
When did you start yoga?
My first class was in college in the year 2000 at the University of North Texas and I didn't care for it. I was young and wanted to be active and it was a very gentle class. I don't remember the poses we did but I remember I couldn't wait to get out.  I didn't know I needed relaxation at the time. I remember getting cocooned in the blanket and thinking that I was getting tucked in. (laughing). They even put something over my eyes and I thought this is weird but I kept telling myself to relax. My mind was going crazy the whole time. After it was over, I left and I thought it wasn't for me. I'd rather go to the bar and play Foos Ball or something.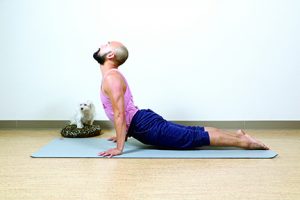 At what point did you get interested in yoga?
About 5 years had passed and I had graduated college with a degree in Entrepreneurship and Strategic Management and Real Estate. I was trying to find my way in the world and I moved to Austin and I got caught up with the wrong crowd and developed a bad addiction. I knew I had to do something differently and I kept hearing one of my mentor's voices in my head repeating, "If you are not happy with where you are in your life and you keep doing the things you've been doing then you are going to keep getting the things you've been getting. If you want things to change, then you have to change." I didn't know it at the time but it was a mantra and I kept hearing it. I was driving away from a party and I was thinking what am I doing? I have to change. In that instant, I decided I was going to move back to Dallas and start over. That's where I found yoga again.
I moved to North Dallas and I took a Power Yoga Class in Addison from Suze Curtis.  The first class was free at the time, I was contemplating signing up for a gym but I didn't want to do that because that's what I always did so I wanted to do something different.  I tried the first class, I was completely sweaty, there were no weights or machines involved and plenty of girls…why not? (laughing) I got over the girls immediately, of course, I got distracted sometimes but I got so into the yoga that's what I concentrated on. I signed for a year membership, it actually cost more than a gym membership at the time but I was committed and all in. It was $59 and that was a lot of money back then. I practiced several times a week. I treated each class like a doctor's appointment and my first year, I only missed one week out of 52.
My life changed completely. In six months, I quit most of my addictions but I was occasionally relapsing. And then 12 months into it I had a EUREKA moment, a moment of enlightenment. I noticed why I was making these decisions, I noticed why I was relapsing, I noticed everything in my head. It had to do with pleasure and pain. I didn't want to hurt anymore so I stopped doing things that hurt me. Smoking cigarettes was the biggest thing. I kept smoking during the 12 months and then I threw everything out. I was clear that I didn't want to hurt anymore. I associated more pain with doing those things so it was easy for me to quit at that point.
The more I learned the more I wanted to know. Within a couple of years, I out grew that studio and I went to her teacher, her teacher's teacher and then I did the research and knew I wanted to study with T Krishnamacharya but I couldn't because he passed in 1989.  So, I found the next best thing which were his students and went to each linage as high as I could go. I was already teaching before I was certified in 2008, and then I started teaching around the country immediately. I had felt like I had more knowledge than most based on my experience and my teachers. I couldn't get an audience in Dallas and I went to the big established studios around town and they wouldn't hire me. I chose to take my show on the road. People here didn't want to hear what I had to say but people in other places wanted to have me and I booked up.
When I came back I talked to the owner of the studio who wouldn't hire me and I told him I was on tour around the country and he said, "A prophet is not welcome in his own town." (Smiling.)
I taught around the country for around 3 years and then I opened my studio in 2011 in Carrollton. I first rented space in the karate studio a few doors down and then I built a following where I could justify opening a studio so we opened next store.
I still travel a little and my intention is to start traveling in 2018 again.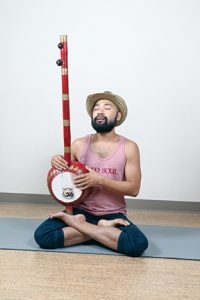 Can you explain your style of yoga?
I'm formally trained in Vinyasa Krama but I had spent a lot of time practicing Ashtanga, Vinyasa and the Iyengar method also. I had also spent a lot of time with various teachers from different lineages including Sri Dharma Mittra.
Why did you decide to go train with your teacher?
Before I decided to get trained in another state, I couldn't find a teacher in the Dallas area that was going to give me what I wanted or needed. I could do most of the p
ut I looked it up and he was Krishnamacharya's disciple and I said, "I'm in! That's all I need to know." Ramaswami was doing his teacher teaching at Loyola Marymount University in Los Angeles, CA. So, I saved up for two years and I went in 2008. It was around 6 weeks and it was expensive. I had to pay for housing both there and here and I wasn't working while I was in training. I chose Ramaswami because of who his teacher was and Ramaswami's intention was to teach what he learned from his teacher as he learnt it.
ostures that they were teaching so I went out of town to study some Ashtanga. I met a Russian guy and he told me I needed to go study with Srivatsa Ramaswami. I couldn't even pronounce the name, b
It's a little different from how I teach today. I meet the student where they are and give them what they need. Ramaswami didn't quite do that. His intention was to preserve the teachings which is different from being a teacher. Once you learn any system well enough, then you can start modifying it, but you know the system well. Krishnamacharya said, "Once you learn something well enough then you aren't going to teach it the way you learned it." As an expert, you have to innovate.
What are people's reactions when people you don't know find out you are a yoga teacher?
I usually don't share it. Well, it depends…if It's a stranger I might say I teach breathing or health and fitness. Yoga is very mystical which means it's mysterious and people usually have misconception of what yoga truly is.
What is one of the most humorous things that ever happened in class?
It may not sound so funny, but it was to me and the class at the time. In a large group class environment, I tell people when they are learning headstands to be up against the wall. If you are too far from the wall and you tumble you are going to roll and get stuck in that position. This one girl was not listening to me and I kept telling her you are going to get stuck and she fell and she got stuck. I could tell she was not compromising her neck, but she was yelling, "I can't get up." As I was watching her I said to her I told you not to do that…she was really stuck. Everyone was laughing.
What advice do you have for people just starting yoga?
A new person, it really depends. It depends on what their hang up is. If their hang up is religious or spiritual then I tell them not to worry about that part. I tell them to take what you need and leave the rest. If it's physical thing like when people are saying they aren't flexible, yoga is not about flexibility. It's more about stability and breath. Don't worry about what it looks like. Concentrate on what it feels like. If it hurts you are doing it wrong and if it feels good you are probably doing it right. Of course, you can always refine it and make it better. Nothing should hurt, breathe deeply and steadily, don't hold your breath unless you are instructed to hold your breath. Make sure you take time to relax at the end. Don't just take one class. Take 10 classes in 10 days, if after 10 classes it's not for you then it's probably not for you right now. Yoga is not for everybody. It's for anybody who can use more health and happiness. If you have all the health and happiness you can handle, it's probably not for you.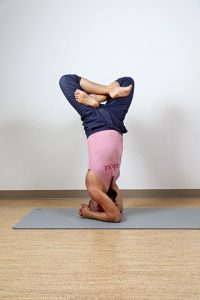 Can you explain your personal spiritual aspect of your yoga?
I didn't come to yoga for any spiritual benefit. I didn't even understand what spirituality meant. But the more I did yoga the quieter my mind became and the quieter my mind became the more I was in tune with something that I felt was greater than me. I was interested in the true meaning and practices of yoga. That's what lead me to study with Srivatsa Ramaswami. He was versed on everything yoga, the Vedas, the Yoga Sutras, Bhagavad Gita, and anything Sanskrit. After having all that information downloaded, most of it didn't make complete sense. I studied with him for over 7 years and I heard it over and over again and eventually I started realizing what it all meant, through practice. Which is connecting to an awareness, to settle into pure awareness and that is spiritual because it's beyond the physical plain and beyond the mental plain.
Yoga became spiritual for me because at some point I became so good at postures, I was thinking…what more is there to do? There must be more because I was still interested in it. I feel like I have achieved more physically in yoga in a few short years than most people have done in decades. So, then I started doing breathing and deep long holds and meditations. The quieter my mind became the more I started realizing the truth of all the scriptures and then I saw the connect between all the religions. That's how I use the practice to have the direct experience of all the mystical teachings. So, it isn't so mysterious to me anymore. For some reason, I was gifted with the ability to communicate what I experience.  A lot of people say they have these experiences in yoga they can't put into words, but when they hear me speak about it then it makes sense, at least that's what I'm told. Yoga is a spiritual experience for me now. It wasn't at first because I was really about my body and how I looked. It wasn't like I had the intention it just happened. It's beyond my control.
Will you share about your music?
I'm not a musician. I just chant the names of the divine and think of the Lord. My Bhajan/Kirtan inspiration is Baba Bhagavan Das.  I've attended his trainings and retreats, read his book and I connect with him. I just play and it comes out. It's almost as like if I try to play and sing then I'm off key but if I do it as an offering it's a spiritual practice. It's as if the ancient mantras and the energy flow through me versus me performing them.
What are your final words of wisdom you can offer?
The main message to beginners I'd like to share is the most important things in yoga are invisible and that the best yogi is not the one who does the most but the ones who think the least.
The earliest mantra that came to me before I was given a mantra was to "Practice without expectations and judgement and amazing things will begin to happen, both on and off the mat."
Go into the practice and whatever happens, happens and I accept whatever happens. I don't expect anything, although I would like something to happen, that is my intention I'm just going to do the work and if it's given to me great, if it's not given to me great. There is spiritual work there.
End note: In some of Ricky's pictures you will see his companion, Bella, who is sometimes found at his studio welcoming his students.  Ricky is also a father of a beautiful daughter who is 15 months old. She has brightened Ricky's life and added a new exciting chapter.
Ricky Tran's studio is Krama Yoga Center. It is located at 2760 E. Trinity Mills Rd #113, Carrollton, TX 75006. Ricky offers teacher trainings, a variety of classes and meditations. You can find out more online at www.KramaYogaCenter.com.
He will also be offering classes, talks and tutorials online at www.RickyTranYoga.com