Advice from a Yoga Therapist
Advice from a Yoga Therapist
Linda Cuyler Shares
Dallas Yoga Magazine is thrilled to announce our weekend retreat "Achieving Serenity: Saying Goodbye to Anxiety". We are honored to have Linda Cuyler as our yoga instructor for a weekend of healing, tapping chakra cleansing, mantra healing, tapping sessions, crystal bowl sound healing, hiking, breathing exercises, burning ritual and superb specialty food by Down to Earth plant-based cuisine.
Linda Cuyler has several certifications including C-IAYT, TIYT, ERYT500 and YACEP.  She has logged over 3,000 hours of teaching.  She currently teaches at least 1,000 hours annually, with approximately 700 hours annually in clinical settings.  Linda is a certified continuing education provider with Yoga Alliance.
Let's getting started with Linda's interview so everyone can get to know her and love her as much as we do.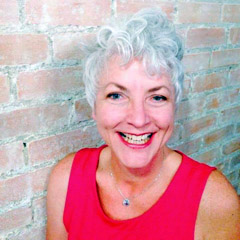 DYM: Tell us how you began your practice.
Linda: I started yoga when I was 47 years old, after my son went off to college, because I was about 90 pounds overweight, had arthritis in every joint in my body and felt very old.  I took a class at a gym I joined and the teacher said, "Be okay with where you are at." She encouraged us to breathe.  I thought "I think this is something I can do."  I loved how it made me feel and that started my journey.
DYM: When did you decide to become a yoga instructor/therapist?
Linda: I had been practicing yoga for about a year and a half and I decided to take a teacher training course, not to become a teacher but I wanted to know more about traditional yoga.  All the yoga experience I had up until that point was in a gym, but I knew there was more to it than that.  So, I started and just as I was finishing my 200 hour certification I realized I had only begun to understand yoga and had so much more to learn so I continued on to my 500 hour certification with Namah Shivaya and started teaching at the local gym where I lived.  I loved learning about yoga and enjoyed teaching.
A year after I finished my 500 hour training, I went to Kripalu in Massachusetts and began my 800 hour yoga therapy training.  I spent 2 weeks attending an in-depth study with Integrative Yoga Therapy it was half the certification.  I signed up for the internship when I got home to get more experience.
DYM: WOW! You are very experienced and have a lot of training. What is the difference between a yoga instructor and a yoga therapist?
Linda: I was a yoga instructor after I completed my 200 hour training.  It took me another 800+ hours which amounted to about 6 years more of study to become a yoga therapist.  This is strictly regulated by IAYT to meet standards which will be recognized world-wide within traditional medical communities.  There are just over 3,000 yoga therapists world wide.
DYM: We had no idea becoming a yoga therapist required so much training. That's impressive. Explain to everyone what your classes are like.
In some ways, my classes vary depending on the populations I teach.  I teach at a hospital for Eating Disorders, a Psychiatric hospital and a hospital for Traumatic Brain Injuries.  I taught regular studio classes in public and private studios and I do private sessions.  However, all of my classes have a therapeutic perspective.  The students that I teach range in age from pre-teens to their 80's but regardless I have the same focus and perspective of yoga as a healing tool.  I focus on making each client feel safe, respecting and helping them to respect the messages that they are receiving from their body and do what feels right for them in class.  I offer suggested asanas, pranayama, meditations, mudras, visualizations, body and breath awareness techniques and guidance based on the needs of the students,
DYM: What has surprised you the most about being a yoga instructor and therapist?
Linda: How much joy I get from each class I teach.  I feel blessed by every opportunity to share what I love with others and to be of service.
DYM: What do you find most challenging about what you do?
Linda: In most situations, I cannot do much class planning ahead because I don't know what I will be facing.  I am grateful for the broad and deep skill set…tool box as they call it… my training provided me because I have to think and respond on the fly and change course midstream and still tie the class up in a fairly cohesive way without allowing it to get me rattled.
DYM: That's difficult to do for class, that shows you are extremely experienced to quickly adjust your class based on those in it. Some teachers can't do that, they have a set routine and don't stray far from it. I think that is something you learn over time.
DYM: What do you find most rewarding?
Linda: Seeing the difference that showing up with good intentions and with passion for what I do can make in people's lives.
DYM: What do you wish other people knew about yoga?
Linda: How much it can transform you as a person in far more than physical ways.  That is the least of it.  It has changed my life on all levels, physical, energetic, emotional, wisdom and spiritually.
DYM: Tell us about someone who has influenced you on your path?
Linda: Trionne Barnett, my friend and mentor has been the biggest influence on my yogic path.  She is selfless and has encouraged and guided me every step of the way.  I would not be where I am today if it had not been for her influence and guidance.
DYM: There are so many places offering yoga teacher training including online. What suggestions do you have for those trying to make a decision where to take their training?
Linda: I would suggest considering your short term and long term goals.  If you have the foresight and know what you would like to purse there are programs that will prepare you better than others for the long term goals.  However, even though I did not know where my path would lead me I still ended up exactly where I was supposed to be, so do some research but put everything you have into the journey.  You will get there!
DYM: What advise do you have for a person who has been practicing yoga for a long time but seems to need a little more extra something to their practice?
Linda: Consider different perspectives and try something that might even be the thing you are avoiding.  I can tell you most of the people I teach where we focus on being gentle with ourselves, slowing down, and deep relaxation have fought that their entire life but cannot believe how they feel after just one session.
DYM: What advice would you share with a person who is just starting yoga?
Linda: Be okay with where you are now.  Breathe, listen to your body, your body will change gradually, and before you know it you will be doing things that you never imagined.
DYM: Tell everyone where you are currently teaching so they can come visit you.
Linda: I teach public group classes at The Health Collective, 10830 N Central Expressway, Suite 400, Dallas 75231 on Tuesday at 6:15pm for a Deep Relaxation Yoga class and on Thursday at 6:15pm for a Yin Yoga class.
DYM: Thank you so very much for letting our readers get to know you. We are so excited about our weekend retreat with you as our yoga teacher!
Connect with Linda:
E-Mail: [email protected]
Website: www.lindacuyler.com
Facebook:  https://www.facebook.com/LindaCuylerCIAYT/
YouTube:  https://www.youtube.com/channel/UCI0TJIvIyDP6PP17e-0YiPA
Instagram:  https://www.instagram.com/llcuyler/
Pinterest:  https://www.pinterest.com/lindacuylerCIAYT/
Namastream:  https://app.namastream.com/#/linda-cuyler/auth/signup