My First Cosmic Yogi Festival Experience
My First Cosmic Yogi Festival Experience
By: Marie Williams, Yoga Enthusiast
Photo: Erica Mestyanek, Marie Williams & AJ Crowell
In a society overrun by acts of racism, feelings of hatred and people living in a fearful, agitated, anxiety-ridden state, yoga and meditation seek to bring about a more peaceful state of being as well as harmony in both body and mind. Any yogi who chooses to use these necessary practices can connect with other yogis and make friends. Yoga communities are special because each person is a part of a larger family who supports others or a specific cause.
As a consistent yoga and meditation practitioner, I have committed myself to supporting both my SunstoneFIT and Black Swan Yoga Dallas families/studio homes, spreading unconditional love, light, positive vibes and hope.
The Cosmic Yogi Festival is based around a vision to bring everyone in the yoga community together. The mission is to "Initiate a Movement for All Yogis to Unite." Due to what is going on in our world today, being united is so important. We should all desire to spread love, peace, acceptance and kindness in ways to help others, while coming together. For these reasons, the Cosmic Yogi Festival was established. By embodying these characteristics, everyone benefits.
When I arrived at the festival, I could not help but notice all the love and strong energy I felt. Everyone was channeling loving vibes, showing me around and smiling. I knew that even though this was my first time, I would be back.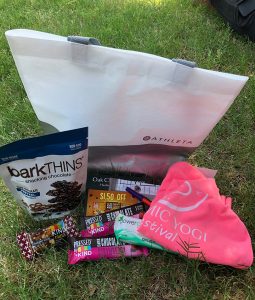 While checking in, I received a bracelet, a neon pink tank-top as a gift and a goodie bag that included the following items: protein bars, organic dark chocolate, coupons to shop and eat out with, bottled water and Kind bars. I also picked up an itinerary of the day's classes and used it to select the yoga and meditation classes I wanted to take. I finally got to meet both AJ Crowell, Publisher of Dallas Yoga Magazine and Erica Mestyanek, Editor. It was wonderful to meet these ladies and we hugged and exchanged pleasantries. They are two of the kindest women I am blessed to work for, which is why I love my job so much!
DYM has several sponsors who agree to pay to set up booths, so they can sell their products, but also promote the magazine. This year's sponsors included Bai, Natural Grocers, Transformation Yoga, Athleta, Yoga Digest, Kaiut Yoga Dallas, Natural Awakenings Dallas Edition Magazine and Three Minute Egg.
Taking in all the sights and sounds, I noticed many vendors selling merchandise such as bracelets, necklaces, malas, incense, mats, towels and other yoga-related items, even apparel such as tops and leggings. There were a couple of food trucks, both vegan and vegetarian on site to appease the palate of hungry participants in between classes who wanted a healthy meal.
Goat Yoga Richardson was set up on the lawn area. I briefly visited and took time to pet the cute baby goats.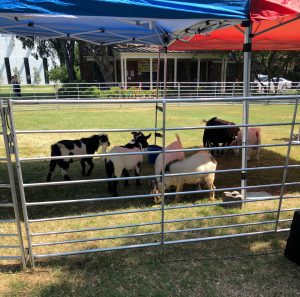 My first yoga-related activity was doing a little "Yoga on the Lawn" using CHulaHoops. Marty Bernard noticed me sitting near a big tree and told me to come join her and the group of participants. I had never done yoga using CHulaHoops before, but it looked fun and I was curious.
We did a couple of cool-down exercises and small movements to music, using these CHulaHoops. It was refreshing because we were under a large, shaded tent. Mine was a bit big for me, but I managed to make it work and had fun! Some of the activities included arm activation, which involved us using Dancing Shiva arms. I balanced the CHulaHoops on my head, tried hula hooping with it and finished up with Tree Pose. I only had fifteen minutes to do this much because I joined in a little bit later after the activities had already begun.
My first yoga class was a Bhakti Flow Yoga class given by Stefanie Tovar from 12 noon to 12:50 p.m. Each yoga class was 50 minutes long and with so many participants, punctuality was integral because I noticed that each class filled up quickly. I was able to secure a spot for myself closer to the front so that I could see Stefanie's demonstrations and better connect to her story.
The word "Bhakti" centers around devotion and the constant feeling of being united. This type of yoga leans toward a personal relationship with God. Bhakti yoga includes prayer, chanting and meditation focused more on God and establishing a path of devotion to Him.
Stefanie opened her class by telling a story about Hanuman, who represented the embodiment of Shiva's spirit. He is referred to as the Monkey God of War, but his main quest was to unite god and goddess, Ram and Sita.
We did many yoga postures I was familiar with from other Flow classes I had taken in the past. Some of these postures included Crooked Monkey Pose, Warrior I, a variation of Forward Folds, various Twists, Lizard Pose, different Heart Openers, Cat Cow Pose to Downward Dog Pose and finally, resting periods with a Child's Pose. I liked how she mixed up these postures, which allowed her to get creative within each sequence. I appreciated her encouraging words as the class moved throughout the poses. I loved being able to go through my own Vinyasa Flow through Upward Dog Pose to Downward Dog Pose, using open-mouth breathing techniques to release heat, while staying connected to my breath.
To close out class, she sung to us while playing her accordion. We chanted "Ram Sita Ram" as she played and sung. This part of the class was my absolute favorite because each yogi was individually chanting, but we were all creating a harmonious sound with our voices synchronized together. The life lesson I took away from her class is that as yogis, we do not have to know all the answers to life's questions; we only need to focus on the present moment, so we can enjoy it to the fullest capacity.
I chose to double up and take another Flow yoga class immediately following Stefanie's. This class was called Svadhyaya Yoga, given by Thom Allen (see his interview in this month's Dallas Yoga Magazine)  from 1 p.m. to 1:50 p.m. The word "svadhyaya" means self-study, so the nature of this class involved the studying of ourselves through challenging postures connected to our breath. The aim of svadhyaya is to bring the self into awareness through discovering deep consciousness linked to a yogi's individual awareness.
As we moved through the class, the array of postures Thom chose to use reminded me of all the Power Flow classes I had taken in the past. He would ask us questions to get us to be more observant of our bodies, notice our breath and savor our feelings in that present moment. I enjoyed the difficult sequences because I felt I had to work a little harder each time he added another posture to the current sequence. Some of the postures he cued were: Chair Pose, Chair Pose with Twists, a Vinyasa Flow sequence that followed the order of a Sun Salutation, Forward Fold, hopping back into Plank Pose, Upward Dog Pose, and ending with Downward Dog Pose. The last pose we did was a Warrior III Pose.
Thom used a variety of Sanskrit terms throughout class to discuss what he felt were significant aspects within a yogi's personal journey. Anahata refers to both balance in postures during the physical practice, but more importantly, balance in all areas of life away from the mat. Vishuddi is openness, which is a deep concept I personally connect to and am currently exploring. When I practice on my mat, I feel an openness within all part of my body. This allows me to be more open with my feelings and how I release them. By being open, I can better receive the gifts from others the Universe has in store for me, but at the same time, my heart chakra is open to give and bless others as well.
He mentioned that our "sun side" is what calls us to action, while our "lunar side" compels us to have compassion for both ourselves and others. In addition to this, Thom talked about finding ease in discomfort, whether that be in a specific yoga posture or a difficult life situation. He told us there was a distinct difference between pain and suffering. We cannot choose our pain because it is inevitable and a part of life that will eventually help us grow once we have learned the lesson attached to it. We do however, have a choice whether we suffer because suffering is directly linked to an intensely negative mindset.
He closed class by striking a sound bowl once so the waves of sound vibration, pulsated throughout the room, as well as in my ears. I had never heard or experienced anything quite like this, it was truly unique.
My third and final class was a meditation class called Practical Meditation Techniques for the Modern World, given by Susan Meymand (see her interview in this month's Dallas Yoga Magazine) from 2 p.m. to 2:50 p.m. She opened up class by asking us what we felt were the most obvious obstacles to meditation. These responses involved being able to sit within the body, clearing the mind and even finding time to meditate, which might be the toughest challenge when work and technology are factored in.
After discussion, it was determined that the thinking mind is the obstacle that truly keeps us from connecting to the Divine. The objective of meditation is to be able to connect with our higher power through the breath. We should practice directing our minds to one thing to help clear our path.
Susan gave us a few techniques to practice in class together. Most of these techniques I was already familiar with because I practice them in other Flow yoga classes. The first technique dealt with pranayama breathing, which serves to direct our minds to the actual sensations of our breath. This type of breathing is also done in the hot yoga classes I take. When done, the yogi feels a vibration in the back of their throat and releases this breath with an audible "Ha" sound.
She talked about "oming," another audible way to breathe, but when done in unison with others, creates the most soothing and humbling sound, beautiful to the ear.
The last technique was the usage of mantras, or phrases to repeat during meditation. I love anything positive that I can say at the closing of my personal mediation practice that leaves me with lasting good thoughts. When I speak these mantras, I will usually choose one or two that resonate with what my current life situations are. I will repeat each one three times.
There was one technique Susan talked about that I was not familiar with and do not currently use. She explained the term "drishti," a focal point for our gaze. We then did a few exercises to practice this, shifting our gaze three times from a direct object, to looking past the floor and then looking down at the floor with our eyes closed. The first two exercises were done with our eyes open. I observed that this activity was harder for me to do with my eyes open because I am so used to having them closed when I meditate.
 I was not expecting to do any yoga postures in her class, but she introduced a Yin Pose called Reclined Spinal Twist, where we laid out on the floor, following her cue into the posture, summoning our breath connection. The goal is to relax in to tight areas within our bodies to feel any present sensations. I found this specific exercise comforting. At the closing of class, we all chanted "om" five times, resting in the vibration we were creating, while allowing our minds to take in what Susan had provided us.
I am not new to meditation.
Back in 2016, I was introduced to mediation by a friend following the death of a dear mentor. At that time, I was sad, not sleeping well or feeling my best. This friend gave me some meditative techniques involving counting in between slow breaths. I started doing this daily to stay calm and relaxed, while checking in with my body. I decided to try an app I downloaded to my iPhone called Calm that helped me set a timed meditation practice to music or soothing nature sounds.
Once I felt I was "healed," I stopped meditating and in March 2017, abandoned my practice altogether. As a result, I became stressed out, more irritable and triggered by various situations at work. These triggers brought on panic attacks, which were incessant and unpredictable. The panic attacks continued for four months from August to November of that year. I knew I needed to go back to what worked for me and helped make life a little less stressful.
Fortunately, the Universe brought my mediation practice back to me in March of this year through a few classes from different certified meditation instructors. I started back to consistent meditation in May. My practice consists of sitting quietly for 10 minutes each day, going through a few breathing exercises, using mudras to channel energy throughout my body, chanting mudras and sometimes, "oming." Every now and then, I will use the alternate-nostril breathing technique I learned in a Flow class sometime back. Lately, I have gone from meditating once a day to twice each day, once in the morning after I wake up, and in the evenings after I get home from work. The result is sharper mental clarity, a positive attitude for the day and complete peace of mind.
I did not attend the festival alone, but instead, invited one of my dear friends with me. Although she was only able to be present for a short period of time, we were able to enjoy each other's company by discussing my experiences at the festival and hear a guest speaker. I am glad she chose to come.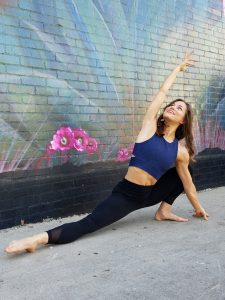 Aly Rafferty is no stranger to yoga or meditation.
A native of Houston, TX, specifically The Woodlands, she grew up dancing during her adolescent years. Such intense movements and pushing her limits led to chronic back pain. Yoga was suggested as a last resort. By practicing consistently, her back pain eventually subsided, and she continued to practice, exploring different yoga traditions. At this time, Aly was studying nursing at the University of Texas at Austin.
After receiving her Nursing degree from UT Austin in May of 2012, Aly moved to Dallas for her first nursing job at Parkland Memorial Hospital. Being in a stressful environment led to establishing bad coping mechanisms, poor lifestyle choices and a non-existent yoga practice. She had begun to not recognize herself anymore.
She knew she needed to get back to a more balanced way of life. In 2104, she discovered Sunstone as a student, completing the yoga teacher training program to become a certified yoga instructor. Along the way, she managed to deepen her practice, falling in love with the connection her body created through breath and movement.
I met Aly last September at the SunstoneFIT PFV location, mostly taking Hot yoga classes from her during the 5:15 p.m. hour, although I have taken Flow classes from her as well. We quickly connected inside the classroom and would always chat briefly after class. I found Aly's voice both calm and soothing as she cued the sequences for each class I took.
She gives off such positive energy and has both a beautiful smile and sweet spirit. In our spare time, we enjoy tea dates and good conversation at Starbucks as well as taking yoga classes together when our schedules sync up.
Today, Aly is a Registered Nurse through Texas Health, a job position she had held since January 2015. Teaching has found a way into her life through her love of yoga and movement. She feels a sense of joy sharing both her passion and knowledge with students.
"More than anything, I crave having a sense of community. Sharing a yoga class can make complete strangers into friends. There is always a sense of camaraderie and kinship with your fellow students at the end of a class."
She also adds: "In this way, being satisfied from within, we automatically have more harmony in our relationship with others."
Aly also appreciates new experiences from which she can observe, learn, grow, and share these experiences with other yogis and teachers, while making lasting memories on which to reflect. She has this to say about her Cosmic Yogi Festival experience:
"As soon as I arrived at the Cosmic Yogi Festival, I was greeted by so many genuine and kind people. The environment was accepting, free and ultimately loving. The speakers, teachers, and vendors were all so knowledgeable; I wanted to soak in every word. I was able to walk away with multiple lessons for my physical and meditative practice. It was encouraging to see the Dallas yoga community in this fashion. I loved being a part of an event where everyone was willing to open their hearts and elevate their minds. Yogis truly make the best company."
The last class I attended with Aly was given by guest speaker Charles Gaby. He has been a psychotherapist for 25 years, completed yoga teacher training and has taught at Sync Yoga in West Dallas for four years.
Charles wrote a book called Choosing to Evolve. The book has to do with the concept of how we all operate on human consciousness, which can cause us problems in relationships, but also help us tap into long forgotten, yet distant memories. Furthermore, this allow us to habituate imagery linked to our past experiences, thus becoming a part of our present-day lives. He also talked about the nine emotions all humans have; distress, anger, fear, surprise, interest, enjoyment, rejection, disgust and shame. I thought his discussion was interesting and informative, packed with good detailed descriptions and examples of the nine emotions.
The Cosmic Yogi Festival allowed me to experience firsthand what a large, supportive and loving group of yoga enthusiasts to which I belong. I am also fully aware of the importance of maintaining the philosophy of love and acceptance within all aspects of my personal life as I share my journey with my fellow yogi friends. The word "yoga" means to unite or join, so each time I am a part of a group meditation or take a class from a friend, I make sure to send good vibes and energy out in the world. Not only do I make a difference, but the Universe gives this energy back to me in return.