Mike Luckock from City Yoga Dallas
Giving Back
Dallas Yoga Magazine would like to introduce Mike Luckock to you. Mike is a yoga instructor and owner of City Yoga in Dallas. He is one of the most caring individuals we have met and you see this immediately during your first conversation with him. Not only does Mike run his own studio, but he gives back to the community. One of our favorite projects Mike organizes is Dallas Yoga & Fitness Festival. This event benefits the AT&T Performing Arts Center's Educational Program. Now more than ever, arts education and access to meaningful arts experiences are crucial in building well-rounded generations of future leaders and community members. The Center is committed to using the transformative power of the performing arts to provide these creative learning opportunities for all students, including those in underserved communities through programs. The donations from the Dallas Yoga & Fitness Festival provides FREE tickets and bus transportation to students from Title-1 schools (economically disadvantaged) from all over North Texas so that they can participate.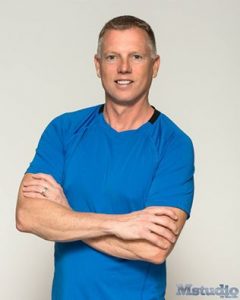 Let's take a moment to get to know more about Mike.
DYM: How long have you lived in the metroplex.
Mike: I am originally for Pennsylvania. I have been in Dallas for 20 years now.
DYM: What do people say or how do they react when they find out you are a yoga teacher with your own studio?
Mike: Most people's first response is "I can not touch my toes so I can not do yoga." But those in the community know that you don't have to be flexible to do yoga.
DYM: Tell us more about your background before owning City Yoga Dallas.
Mike: I was a Special Education Teacher for 18 years before stopping and teaching and owning my own studio.
DYM: WOW! That takes a certain type of person to be able to teach for that long…let alone teaching those with special needs. That says a lot about who you are.
When was the first time you tried yoga?
Mike: A group of friends at the gym decided we did not stretch enough and wanted to try it. It only took about 3 weeks and I was hooked! I knew yoga was for me I soon realized yoga was more than just stretching; it is about quieting the mind and body and bringing a balance into life.
DYM: How did your yoga career grow?
Mike: I went from taking gym yoga to practicing at a studio where I grew my practice. After a few years, I started to assist during the classes and help in the trainings. The next step naturally was to become a teacher.
DYM: What kind of training have you had and what is your favorite kind of class to teach?
Mike: I have my 200 RYT. I love the freedom of a Vinyasa Flow class. It allows creativity within the flow which I enjoy.
DYM: Do you have support from your family?
Mike: I am very fortunate because my family is very supportive, and my husband and I own everything together.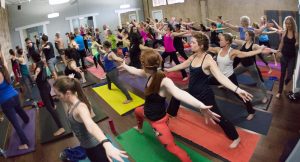 DYM: Tell us about your class and what someone can expect as a student of yours.
Mike: They can expect to have a very creative flow that is accessible. The music is always different and it's a very positive experience. They leave feeling uplifted and freer than when they arrived. I want my students to walk out of the class feeling good about themselves and knowing they just shared an hour of their lives with people that truly did not judge them.
DYM: What would you tell someone interested in going to teacher training?
Mike: Sit down and talk to teachers first. Some trainings tell a student they should be become a teacher because training is a money maker. Don't do it because someone suggests you should become a teacher, do it because it's in your heart.
DYM: That is great advice and so very true. What is the biggest hurdle you face when you are a yoga teacher?
Mike: The biggest hurdle is always finding the balance between teaching a class and taking a class. When I take a class, I have to let go of that teacher in me and just go with the flow.
DYM: What has been the biggest change to yourself since you started practicing yoga?
Mike: The biggest change since I started taking yoga is finding my breath. Before taking yoga, I did not realize the importance of breathing slow and deep. It's so relaxing, calming and physically has many benefits as well. Today, I take time to breath not only in class but throughout the day.
DYM: Do you have a story about adding laughter or humor into your class?
Mike: Yes! Sometimes we have to laugh at ourselves, I do recall a time I had to bring everyone out of a pose for almost a minute because I could not stop laughing. I don't recall what started it, but everyone was okay with it. We are all human and having fun is a necessity!
DYM: What makes your class more special from other teachers?
Mike: Well, I do not have any favorite mantras and I also do not add anything to my practice like crystals or anything like that. But what I do offer is caring…I truly do care about every student that walks through my doors.
DYM: We like to ask some different questions. So, if you were on the cover of Time Magazine what would it be for and why?
Mike: If I was on the cover of Time it would be for giving back and caring about others. It may sound crazy and self-absorbed, but I have always cared for others.
DYM: No, it doesn't sound crazy. It shows what a big heart you have and what kind of person your really are.
What would you tell someone who is going to their first yoga class?
Mike: Don't give up after 1 class and try different styles of yoga. Find the places, teachers and classes you like the best. It may take some time or you might find it immediately but be true to yourself.
DYM: Mike thank you so very much for taking the time for this interview. It is obvious, you are an extremely caring and loving person…your heart shines in everything you do. We are looking forward to working with you on future ventures.
Get in touch with Mike Luckock: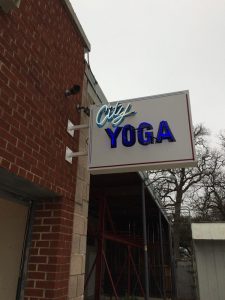 Location: 4311 Belmont Avenue, Dallas, TX 75204
214-792-9505
Facebook: City Yoga