Black Swan Yoga Arrives in Dallas
Black Swan Yoga Arrives in Dallas
By: Marie Williams, Contributing Writer Dallas Yoga Magazine & Yoga Enthusiast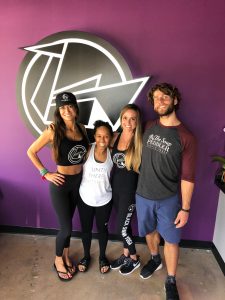 Black Swan Co-Owners, Joy, Claire & Noah (Marie is in the white shirt)
When people think of traditional yoga, they may envision one instructor teaching a class full of yogis, doing set postures in a hot room. Surprisingly, yoga is changing again and now, instructors are starting to get more creative with their sequences and music selections. Today's yogis are requesting more diverse song choices, wanting harder sequences provided in their classes, and willing to give more energy to stay engaged, while sweating it out on their mats. Most importantly, everyone is encouraged to develop creativity in their practice.
Black Swan Yoga is Dallas' hottest new yoga attraction! The three co-owners: Kimberly Joy Lipson, Claire Asmann and Noah Villalobos traveled from Houston, Texas to carry out their dream of establishing a Black Swan Yoga location here in the metroplex.
Construction started in early spring. Inside the 5,000 square foot building is a yoga practice room, a teacher training room for workshops and teacher training, men's and women's locker rooms, a lounge area, retail space and a front desk for customer check-in, as well as cold food and drinks for purchase. Most recently finished is the teacher training room, complete with brightly colored walls, cubby space for storage and two windows that provide excellent lighting. Blocks and straps are stored in the yoga practice room and provided for student use before or after class.
BSY embodies the concept of "Free Expression." Within this concept, all instructors are encouraged to express themselves through their own interpretation of the practice. This gives any yogi an authentic connection to that instructor's unique journey. BSY honors all yoga styles, practices and philosophies. By doing this, the company is promoting two important principles: acceptance and diversity. Acceptance is necessary for growth in a yogi's practice, both on and off the mat. Diversity involves keeping sequences, practices or events fresh and original. Different events give yogis countless opportunities to explore Dallas, while meeting and networking with other yogi friends or instructors. BSY does a great job of showcasing its degree of diversity.
The company has three mandatory goals that help acquire good business: accessibility, being down-to-earth and remaining community-focused. Accessibility is a key component for any new yoga business just starting up. BSY Dallas is one of the few yoga studios that provide classes all day long, open to all skill levels. Classes begin at 6:00 a.m. and end at 11:00 p.m., which is a Candlelight Flow, starting at 10:00 p.m. Affordability is also important because people will most likely take classes that are reasonably priced within their budget. At BSY, yogis can register and pay for any class online by setting up an online account. They can also drop-in, check-in and pay on the spot. Payment is donation-based, so yogis do not feel obligated to pay a set price. The suggested donation amount is between $10.00-$20.00, cash or credit. For example, I usually double up and take two classes, so I will pay $20.00, $10.00 for each class. Each time a cash payment is made, the individual will receive an e-mail receipt confirming payment for the class. Mat rentals are $5.00, but yogis also have the option to purchase a mat for $15.00.
Memberships are $88.00 a month, providing any yogi unlimited classes at all BSY locations. Yogis can auto renew or cancel their memberships at any time; however, they must email BSY to inform the company of the cancellation in advance.
Promotion of events is done via social media using Facebook, Instagram and their website. Yogis can RSVP to all events online. This method of advertising helps to instill another concept, which involves being community-focused. "Free Expression" is interconnected because it aids in building a community of yogis that are accepting and loving. Yoga instructors demonstrate this philosophy in their teaching.
One new perk affiliated with BSY is BSY TV. Yogis can have access to unlimited streaming yoga for $8.00 a month. They view the instructors on their laptops or mobile devices anywhere at any time. Before they decide to commit to payment each month, they can have a free trial for eight days.
BSY focuses on creating a fun, creative teaching environment that includes bright lights, upbeat jams to practice yoga to and energetic, passionate teachers who bring their own styles to the classroom. Each teacher is different in their delivery of a sequenced class, music selection and overall message or intention for the students.
BSY offers two types of Flow classes. The Powerful Flow class allows a yogi to connect movement to breath and emphasis is placed on being able to balance between quick movements and steady pose holds. Each class offers an exclusive combination of poses, while optional arm balances and inversions are suggested throughout class. The class is open to all skill levels.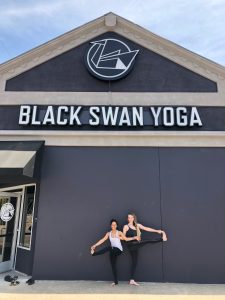 The Beginner Flow class is perfect for yogis just starting out who are new to vinyasa style or more experienced yogis who want to slow things down a bit without the inclusion of more complex postures. This class provides any yogi the chance to go back to the basics, but at the same time, teaches newcomers the necessary fundamentals for a healthy start. Both classes involve breaking out a good sweat in 90-degree temperatures!
Joy Lipson is one of three co-owners at the BSY Dallas location. In June 2001, she was living in San Francisco, California. The temperature was an adjustment for her, yet she found that she was always cold and could never get warm enough to be comfortable. To resolve this issue, Joy found herself going to a Bikram studio three times a week to get warm. At first, she just sat in the room for 30 minutes to warm-up, but after a while, she became interested in trying out the postures other yogis were doing. Bikram yoga is an intense style of yoga where specific postures are done in a set sequence in a room at about 102 degrees. Joy hated Bikram because she felt it was challenging, but she loved how she felt after taking the class each time.
In 2003, she took her first vinyasa flow class at At One Yoga in Phoenix, AZ from Alex Austin and was hooked. By falling in love with vinyasa style flow, this led her to decide to go through teacher training and become certified to teach yoga. Joy completed her yoga teacher training at Urban Yoga in Phoenix during the months of June—August 2012. She earned a 200- hour RYT certificate and has been teaching for six years, while practicing yoga for 15 years. She enjoys practicing both vinyasa and yin yoga, formerly known as restorative yoga.
Later, Joy moved to Houston in 2014, where she met Claire Asmann. Claire wanted to open a BSY studio in Houston. With hard work, dedication and goals, the ladies made it happen in September 2017.
Joy says she decided to become a BSY studio owner because it is her passion and she wants to take everything to the next level, rather than just teaching classes and leading teacher training. She said, "The most fulfilling part of becoming a BSY studio owner is the ability to express yoga in the way that resonates with my personality and vibe."
Murals are a huge part of the BSY name. At every studio, students can expect to find painted murals, showcasing a variety of colors and designs. The Dallas location is no exception. The first mural is located inside the yoga practice room. On the back wall, large, multi-dimensional pictures of an elephant and a lion stand out. Upon walking into the studio, a pair of beautiful blue angel wings pop out on the side wall. The third mural is a Buddha head. Each mural is created, using geometric designs and bright colors with shading to bring out distinct lines for specific facial expressions and detailed features. Derek Nemo, a Dallas-based artist, is responsible for painting BSY Dallas' murals.
Claire Asmann was already working as a manager at a fitness gym in her hometown of Wichita, Kansas long before her dream of co-owning a BSY studio would become a reality. She was a serious runner and enjoyed it, but unfortunately developed pain in her knees, which hurt all the time. Her personal trainer at the time suggested she try yoga. After that, she continued to practice regularly.
Claire first heard about BSY from her friends at Texas State University in San Marcos, Texas, where she was studying to receive her bachelor's in Communication Studies. She was curious, yet so excited that she would often find herself making the 90-minute commute on the weekends to Austin, where one of many BSY studios would eventually be built. BSY first opened in 2009 and the original location was on West Fifth. Michael Gray founded BSY.
Eventually, Claire ended up completing her teacher training at the West Fifth location, receiving a 200-hour RYT certification and teaching there for a year and a half. She has been teaching for six years and practices vinyasa and Acro yoga. Her passion for teaching led her to open two other BSY studios in Houston, where she would settle before coming to Dallas. She says she wanted to become a studio owner and spread the love so that people could experience BSY for themselves and be transformed. She wanted people to feel the magic and find their purpose.
Claire feels the most fulfilling aspect of her yoga journey has helped her stay internally focused, rather than getting caught up in external situations.
"No matter how much chaos is going on around me, yoga provides me with the tools to find calm in the eye of the storm. Yoga ultimately allows me to accept the present moment as is, while staying in a peaceful state of mind."
Just recently, BSY Dallas had their Soft Opening event on April 28, 2018. The theme was "Free Yoga All Day at BSY Lovers" and was an all-day extravaganza that lasted from 10 a.m. to 5 p.m. Guests had the opportunity to partake in free yoga classes taught at various times. Joy, Claire and Noah taught the opening class, in which 70 people packed themselves in the yoga practice room to sweat it out!
Following the first class, there were three other Powerful Flow classes taught at 11:30 a.m., 1 p.m. and 4 p.m. One Beginner Flow class was taught at 2:30 p.m. I chose to double up and take the first two Flow classes given by the owners and the second one, by a friend. JuiceLand supplied free juice samples throughout the day to keep thirsty participants hydrated in between classes. This event was advertised on Facebook, Instagram and BSY Dallas' website. Individuals were encouraged to create an account and RSVP online.
Noah Villalobos had an unlikely start towards practicing yoga. At age 16, he was in a serious car accident that broke his jaw, caused internal bleeding and left him with a lacerated spleen. In addition to this, he also lost 25 percent of one of his kidneys. Noah was a football player at the time and could not afford physical therapy, yet he wanted to remain athletic. Even though the accident left his body in a bad state, Noah believed healing was possible and was willing to try something new.
In college, at The University of Texas at Austin, Noah says he took free yoga classes around the city because he refused to pay for them. As a result, he learned about BSY and the various locations in town. He never practiced at any of them but managed to sign up for teacher training. Having signed up, Noah completed a nine-week program done during the weekends in the summer of 2013. He earned a 200-hour RYT certification from BSY. He has been teaching for five years but practicing for eleven.
Noah specializes in teaching vinyasa yoga, but loves practicing Acro yoga with Claire, whom he met in Austin at BSY. He says that after he met Claire and saw the impact she was making upon the company, he realized that what she was doing was integral, so he needed to become more involved in BSY's development.
Noah has worked for all three Austin studio locations: Westgate, Orchard and Anderson. He selected the Anderson location site and helped build it, while renovating the Orchard and Westgate studios. After detailed discussions with both Claire and Joy, the decision was made to move to Dallas and build a studio here. Noah has both a bachelors and master's in Accounting from UT Austin.
Noah loves doing what he calls "Breath Hype," or Kundalini exercises to hip-hop music. He says it helps him get fired up to teach his classes, while keeping his body properly oxygenated. He enjoys teaching yoga just the same.
"My favorite part is being a force of positive change. I love helping people out by bringing them together and inviting them to experience all of the healing benefits that yoga brought to me."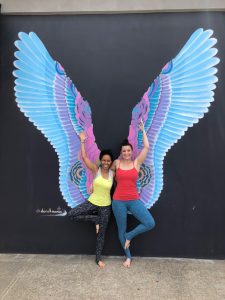 Photo: Jennifer Carrera with Marie Williams
Jennifer Carrera is one of many yoga instructors at BSY Dallas. She is an excellent teacher, but her specialty is the ability to fuse guided meditative breathing exercises into her classes, while mixing in mudras to help direct energy flow throughout the body. The result is a Zen state before and after class and these elements have truly become a staple for my personal practice.
I first met Jennifer two years ago at the SunstoneFIT PFV location. She was teaching the 5:15 p.m. Hot yoga class there one evening. Afterwards, I remember her complimenting me on my seated forward bends and how I used my core strength to complete them. I decided to take a Power Flow class from her that same night. I was amazed at how she taught and the creative thought she put into her sequences. From that point on, I made sure to take doubles from her when she was scheduled to teach. In the classroom, we connected instantly through shared positive energy. After class, she always asked me how I felt and what I liked about her classes.
Today, we have become very close friends. We text each other several times a week to talk. I make sure to find time or a day in my schedule to take one of her Flow classes. We take yoga classes together, but most importantly, yoga continues to deepen our strong friendship. It allows us to give and show love to one another and others within the yoga community so that we can both continue to grow.
In 2007, Jennifer took her first yoga classes, held in the Recreation Center, while studying at the University of North Texas. Her practice was not consistent, but sporadic. Three years later in February 2010, she was involved in a serious car accident, in which she broke her neck, specifically the C2 vertebrae. She was not able to engage in any serious physical activity for nine months. Fortunately, one of her friends told her about Sunstone. She took her first class at the PTC location in Plano. This class was called Progressions, a series of three 30-minute classes taught back-to-back. Jennifer was drawn in from that point because yoga had become so much more than a physical practice. Initially, she started practicing consistently because she wanted to get in shape and look better.
Jennifer's quest to become a certified yoga instructor began at the Sunstone Academy located in Addison, Texas during the summer months of June and July in 2013. She enrolled in an eight-week intensive program, which consisted of anatomy, asana, methodology and yoga philosophy, done within 14-hour days. Upon completion of the program, Jennifer earned her 500-hour RYT certification.
The Yoga Alliance is an organization that allows certified yoga teachers to become members through an accreditation process. Once companies go through the same process, they become registered yoga schools (RYS). Through the YA, Jennifer has taught over 1,000 hours. Just recently, she earned and paid for her E-RYT 200-hour certification.  This accomplishment enables her to be a continuing yoga education provider, meaning other yoga instructors can attend her workshops to receive their continuing education hours for renewal of their memberships with YA. She is also available to teach/assist in teacher trainings as well.
After obtaining her Bachelor of Science in Special Education from UNT in December 2010, that next year, she embarked on becoming a middle school special education teacher and taught for five years from 2011-2016. Even though she loved her students dearly, Jennifer knew this path was not something she was truly passionate about. She felt a calling to learn more about and share her knowledge of yoga because this new-found knowledge helped her so much. Jennifer has consistently practiced yoga for seven and a half years and been teaching for five years since August 2013.
Jennifer is currently teaching at five studio locations, but also has two private clients she works with away from the studio. Although she is looking to grow her private practice, she says these two clients have become dear to her heart and she enjoys working with them each week.
When Jennifer is not "studio hopping" to teach classes, she gives time to her other passion—yoga therapy. She researched the topic online and is presently enrolled in the Integrated Yoga Therapy 1,000 Hour Program at the Kripalu Center for Yoga Health, located in Stockbridge, MA. Upon finishing this program, Jennifer will be a certified yoga therapist through the International Association of Yoga Therapists. She is halfway done with the program requirements.
Jennifer says the purpose of yoga therapy is to be able to use the five koshas to restore balance where there is an imbalance in the body. These ancient yoga techniques are used to look at the whole person through the lens of the koshas, which represent the five layers of the human body. The first layer is associated with the physical body, the second layer concerns the energy body, the third layer deals with the thinking body, the fourth layer focuses on the wisdom body and the fifth layer includes the bliss body. She further explains that bringing the body back to a state of ease whenever the body is dis-eased (diseased) plays a significant role in yoga therapy, which can be preventative, rather than responsive.
Jennifer began teaching at the BSY Dallas studio in May. She first discovered the company on social media, knowing there were already several locations in Austin. She is grateful for the creative freedom this specific studio gives their teachers and the support given to promote growth in any teacher's individual style. The studio is all-inclusive of different lineages and styles of yoga, but also, appealing to new yogis or those desiring to deepen their practices. Jennifer tries to follow Patanjali's Eight Limbs Path of Yoga and daily practice meditation, pranayama and mudras. Due to her busy teaching schedule that is different each day, she tries to get in time during the day to meditate whenever she can because consistency is important to her practice.
Jennifer defines a mudra as a gesture or seal that helps to move energy to different parts of the body. The type of mudra she uses depends on the effect she wants that day. For a more grounding effect, she will use apana mudra, but if she desires more energy, she will take bramhara mudra. She also noted that there are mudras that help with channeling the divine or for better concentration during meditation. Mudras and pranayamas can also be used for dealing with different illnesses or disease in the body.
When Jennifer is not teaching, she loves to explore all types of asana; moreover, it just depends on what she needs at that time or specifically wants to work on in her personal practice. She has an impressive handstand practice and will often cue an inversion as the "peak pose" in her Powerful Flow classes at BSY, encouraging students to go to the wall to play.
Jennifer developed a strong handstand practice by practicing consistently, getting out of her comfort zone and making herself practice away from a wall. Lately, handstands have been her favorite to play around with because she is starting to stick some away from the wall, but her favorites change all the time. Separate Leg Forward Fold is one of her favorite inversions. She feels that forward folds are soothing and likes them as well. Legs Up the Wall is another one of her favorite inversions to personally practice because she thinks it is beneficial to all systems in the body.
Jennifer feels the most fulfilling part of her personal practice has to do with personal growth.
"The most fulfilling part of my practice has been learning more about myself and growing towards self-acceptance and developing a connection to the Divine, my higher power."
Ancient yoga techniques are a notable part of Jennifer's personal practice, but she feels her students should benefit from them as well. She puts it this way: "The most fulfilling part of being a teacher is sharing ancient yoga techniques to help my students discover their inherent wholeness."
Getting to know Jennifer these last two years has been a blessing. She has given me suggestions to further advance my asana practice, her guided meditative breathing techniques and mudras have helped calm my anxious mind and the mantras have always left me with a special message to take and use away from my mat. I truly have the utmost respect for her teaching style and what she brings to BSY and the yoga community-at-large. This respect also carries with it unconditional love that any student should have for a teacher she admires.
BSY acknowledges four necessary ideals that allow the company to successfully reach out and attract newcomers, seasoned yoga practitioners and those wanting to become yoga instructors. These ideals are passion, creativity, love and being a part of a community that treat each other as family.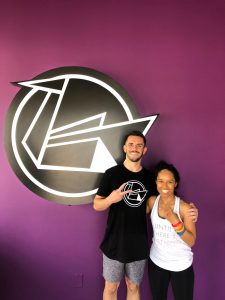 BSY instructors bring passion to the classes they teach. It is evident that each teacher cares about his/her unique style he/she wishes to share, but also wants to make sure yogis are getting the most from each class taught. Without passion, there is no upbeat energy to keep each class popping!
BSY encourages all teachers to be creative in their delivery of sequences for each class they teach. The more creative and expressive the sequence is, the more playful any student can get once he/she is in a zone to learn. Creativity leads to authenticity and this element is what keeps the students coming back.
BSY is all about showing love to everyone who chooses to come out and share a safe space on their mats. The owners and teachers greet each customer who walks through the doors, but also make a point to learn each person's name, establishing a friendly rapport.
Finally, BSY is all about growing the yoga community through hosting free yoga events so everyone can come out, make friends with other yogis, participate and have fun. By networking with others involved in the community, friendships are established, thoughts are expressed, ideas are shared, and a yoga family is born.
My favorite part of yoga class is at the beginning. Each teacher introduces his/herself and asks the students to do the same with one other student. Once settled, guided meditative breathing and the chanting of "Om" begin. The teacher then asks the students to set an intention before class starts.
Black Swan Yoga Dallas is located at 5118 W. Lovers Lane, adjacent to a flower shop near the parking lot. For more information, contact BSY at [email protected] or find them on Facebook and Instagram at Black Swan Yoga Dallas.