Local Women's Club Presents Women's Empowerment Expo
By: Janine L Palmore
Introducing….The Women's Empowerment Expo 2018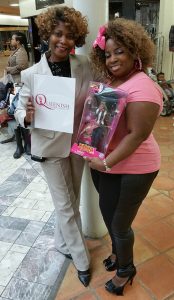 The Queenish Professional Women's Club (QPWC) will host The Women's Empowerment Expo 2018 on Saturday, March 24th from 10am to 6pm at the Lancaster Grand Hall Ballroom located at 1700 Veterans Memorial Park in Lancaster, TX 75134.
Commemorating Women's History Month, the goal of the event is to celebrate women. The FREE Expo will feature presentations by dynamic speakers, demonstrations and exhibits that showcase information and solutions related to healthy living, education, wealth building and management, career, small business development, family, cultural diversity, women in the workplace, fashion and other important topics to help improve the well-being of women. There will also be entertainment and local vendors.
At least 1,000 attendees are expected to come from all over the DFW. A variety of professional backgrounds and experiences will be represented. There will be business owners, corporate leaders, teachers and more. Many industries will be represented, including: financial services, non-profit organizations, law, accounting, insurance agencies, real estate, telecommunications, technology, the arts and human services. This event is designed to be a great opportunity for networking, gaining new insight and inspiration.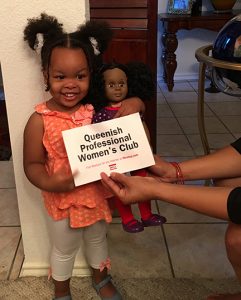 DOLL GIVEAWAYS
The Queenish Professional Women's Club strives to give positive images to girls of color through dolls. "Dolls give girls (and women) something to admire, nurture and emulate. Dolls were the first to teach us responsibility as faithful companions for girls to take care of." said one of the members.
Due to the scarcity of black and brown dolls, Quinnie Nichols, Founder of the Queenish Professional Women's  Club decided to start giving away dolls of color to African American girls of all ages. Quinnie also points out the importance of dolls in a woman's life and how we continue to gravitate to them even in adulthood.  As collectors of dolls and other items they continue to encapsulate the image and beauty of a Queenish woman.
Recently, Quinnie and the ladies of QPWC went to Beltline Elementary School in Lancaster, Texas, and gave away approximately 37 dolls and books. Quinnie and the organization choose random dates and locations, at least quarterly to meet up and give away brown dolls and books.
To commemorate Black History Month, Quinnie added books about African Americans to give away along with the dolls. This way children would not only see a positive image, but also be able to read and become educated about great contributors who look like them, giving them a sense of pride.
This is the QWPC's third year giving away dolls. "I keep dolls in the trunk of my car so that if I see a girl, I can give her a doll," Quinnie said. QWPC gives away a variety of black dolls which display positive images. They give away dolls in professional career attire, church lady attire with big hats, dolls that look like beautiful queens. They choose dolls that represent the strength, dignity and integrity of African American women. The QWPC could pop up at a mall near you to give away dolls and books as Quinnie hopes to increase their outreach efforts.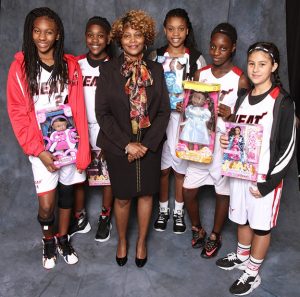 THE MISSION
Queenish Professional Women's Club, founded in 2013, is a professional organization that champions the advancement of women across all disciplines. The Club recognizes excellence and promotes leadership. QPWC is committed to building a network of dynamic, women professionals, focused on developing relationships through networking and support for success.
The QWPC brings together women with the common goal of actively building their businesses as well as every other aspect of their lives. Comprised of dedicated volunteers, the Club promotes education, family, wellness, career success, and financial security.
QUEENISH
A derivative of Queen, Queenish means to hold the characteristics of a Queen. A queen is defined as a girl who is very important or successful at something. Whether it's fashion and beauty, science and technology, or being a mother and friend, it's about being successful at something.
A queen is woman who rules. Queen Nefertiti, whose name means 'a beautiful woman has come,' is one of Egypt's most prominent queens.
"I'd like to be a queen of people's hearts, in people's hearts…!" ~Princess Diana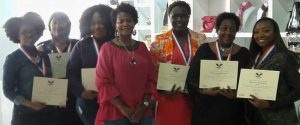 ABOUT THE FOUNDER
Quinnie Nichols, Founder of QPWC, is the author of "QUEENISH: Embracing the Empowerment of Women." Mrs. Quinnie Nichols holds a Bachelor of Arts degree in Organizational Management and a Masters of Education from Ashford University.  She is Six Sigmas Certified, a Licensed Real Estate Agent and Salesperson, FEMA Certified, and was Lancaster City Planning and Zone Commission Chair from 2011- 2016.
Quinnie has held key positions with major financial corporations for more than 26 years. The Certified Regulatory Compliance Executive has demonstrated impeccable ethics, ability to implement resolutions, and operates with high standards for business practices.
Quinnie Nichols empowers others through her daily work, her activism and community involvement. She uses her wealth of knowledge, amazing insight, valuable experience, to bring about awareness, and equality to those with limited resources and information. She is also a cancer survivor. This mother of all sons, ranging in age from 24-30, has become the mother to many spiritual daughters as well through her involvement in the workplace, through her community work and through the organization she founded (QWPC).
Register for the March 24, 2018 event at qpwc-empowerment-expo.eventbrite.com. For more information, call  972-748-6798 or email  [email protected]. The WOMEN'S EMPOWERMENT EXPO 2018 is a FREE event.
About the Author:
Janine L Palmore, StarBios, "Writing to make you SHINE. Providing uniquely written expression of personal identity, purpose, passion and accomplishment."