Inspired Feminism & Spirituality
Inspired Feminism & Spirituality
Daphne Moon
Daphne has been a favorite of Dallas Yoga Magazine for a long time. She has an inspiring story and is always authentic and true to herself. It's not a surprise that her class last year at the Cosmic Yogi Festival was one of the most popular classes. We are honored to have her returning to this year's festival leading another class. You can find her scheduled time at www.CosmicYogiMovement.com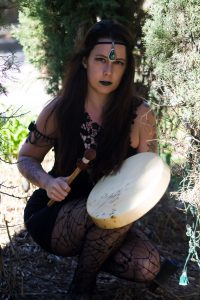 DYM: Are you originally from Dallas? If not, where are you from?
Daphne: I grew up in Canton, Texas, a small town about 1 hour East of DFW.  I live there a little over half of the month and I am on the road the rest of the time.
DYM: How do people react or what do they say when you tell them you are a yoga teacher?
Daphne: Either something along the lines of 'That makes sense,' or 'I'm not flexible enough for that.' I tell them they don't have to be flexible to do yoga.
DYM: Do you have another career?
Daphne: Kind of.  I facilitate out of the Goddesses of Light Temple at festivals, teaching yoga, facilitating ceremony, and doing healing work.  I offer coaching and energy work, both in person and distance; I have a line of hand painted and blessed keepsake boxes and mini altars; I read cards…general Priestess work.
DYM: WOW! That sounds so interesting. What prompted you to attend your first yoga class? What were your thoughts about it at the time?
Daphne: I was involved in a car accident in 2006 where I was ejected from my vehicle, and it broke my jaw, fractured my skull, caused extensive damage to the muscles on the outside of my left leg, and stretched the tendons in my knee and ankle on the left side (my foot apparently caught the steering wheel and slowed me down enough to not crush my skull upon impact).  I was in severe pain and was told my normal fitness routines (running and dancing) were no longer available to me.  A friend suggested yoga.  I was excited from the get go, interested in the philosophy and life style that seemed to come with it immediately. 
DYM: How did that lead you to becoming a yoga instructor? 
Daphne: It actually took 6 years for me to get into my first training.  I had struggled with depression and anxiety from a young age, and the trauma of the accident coupled with waking up to a man sexually assaulting me as I lay in my hospital bed the next morning sent me into a spiral of self-destruction.  I went down a dark path of alcohol, drugs and self-harm that was stopped by me surrendering to the call of Spirit in 2012 and attending my first training.
DYM: So many people have been led to yoga because of a traumatic experience. It's a wonderful way to release and take care of ourselves. What certifications do you have? 
Daphne: I have a 200HR Hatha Certification through Yama Yoga Wellness Center & School in Canton, under Summer Smith and a 200HR Karma Certification through The Kula Institute under Brook Cheatham.  I also have a Priestess Certification and am Reiki I & II attuned.
DYM: Your training is very diversified! That's wonderful. Do you have a preferred style of yoga you practice? 
Daphne: I go back and forth between a lot of different styles, depending on my mood and what I need.  I seem to practice more advanced/power style classes lately though.
DYM: Does your family and friends support your yoga dedication?
Daphne: My Medicine Family, the community and tribe that I've gained through my work certainly does.  My biological family thinks I'm weird but they're glad I'm not self-destructing anymore so they're pretty supportive. (Smiling)
DYM: What can someone expect when they go to your class for the first time?
Daphne: I talk A LOT!  I over explain.  I worked with beginners and folks at gyms for a long time and I find that even the most advanced yogi can benefit from hearing me talk through alignment tips over and over as you hold.  Then once I'm comfortable you know what you're doing, we'll speed up to a Vinyasa pace so you can get practice noticing the alignment even as you move with the breath.
DYM: What do you want your students to accomplish or "take away" from your class? 
Daphne: I want them to feel surprised at their own abilities and leave feeling like they just got REM sleep in Savasana.
DYM: What advice would you give someone thinking about becoming a yoga instructor?
Daphne: Get ready, because it's not just a physical training.  Be prepared to dive into the philosophy and your own psyche.
DYM: So very true. What was the biggest hurdle you have had in your personal yoga practice?
Daphne: Keeping it consistent.  Especially since having my son, I find it extremely difficult to get practice in alone.  I usually have to go take a class and get someone to keep him.
DYM: What was the biggest hurdle you have had as a yoga teacher?
Daphne: Getting studios in DFW to take me seriously.  There are a lot of studios that require you to do their training to be able to even get on the sub list.  I understand to a certain extent, you want to know the person that is teaching has good information and good training.  However, it has an air of superiority. A studio owner should be able to take an audition class with someone new and see if they are sufficiently skilled, in my humble opinion.
DYM: What are some of the biggest changes you see in yourself since you started practicing?
Daphne: I have grown so much as a person.  I stopped self-destructing, I left an abusive relationship, I have shifted the entire direction of my life to follow Spirit's plan…I have changed so much that I felt called to set down my birth name and pick up the name Spirit had for me as a symbol of that shift.
DYM: I love that! Keep true to who you are now. Sometimes humorous situations happen in class, can you think of something that you have seen or experienced? 
Daphne: I'm usually the one cracking jokes, mostly about how nobody is looking at your butt in the air. (Laughing)
DYM: Do you have any favorite Mantras you use?
Daphne: I loooooove Mantras!  Any and all.  If you made me pick, though, probably Lokah Samastah Sukhino Bhavantu. It essentially translates as, "May all beings everywhere be happy and free, and may the thoughts, words, and actions of my own life contribute in some way to that happiness and to that freedom for all."
DYM: That's beautiful! Do you have other practices you add or incorporate with yoga to enhance your practice? Yes!  I am a practicing Witch.  I have gone through something called Self Priestessing, where I was given a topic of study for each moon cycle for 13 consecutive cycles.  I completed 2 sets of 13 moons before submitting to receive my Priestess Certification. My view of Witchcraft is similar to Buddhism, in that it is a philosophy and lifestyle, not a religion.  I believe in my ability to set my intention and manifest my reality, and I use crystals, altars, and ceremony to bolster that ability.  For more on my view of Witchcraft, read my blog Feminism, Spirituality and Identifying as a Witch.
DYM: If you had to use one word to describe yourself, what would it be and why?
Daphne: Survivor.  I have made it through so much, and it's only made me stronger.
DYM: If you could be on the cover of Time Magazine, what would be the reason?
Daphne: For offering the most effective tools for surviving abuse and processing into healing and power.  I want to change the way we function as a world around this issue.
DYM: What advice would you give someone new to yoga?
Daphne: Showing up is the practice.  It doesn't matter how weird or scared you feel.  All that matters is you keep trying.
DYM: Let everyone know where you teach so everyone can find you.
Daphne: I offer 3 classes a month at Samatone Yoga in Addison, Facilitate Ecstatic Dance on the 2nd Saturday of the month, Yoga Meow to benefit a local Cat Shelter on the 4th Saturday of the month, and am teaching 2 workshops at Lotus Yoga Dallas in Lakewood April 28th (Neck and Shoulders) and May 26th (Hips and Low Back) for folks with pain and/or injury, or who want to prevent pain & injury. 
DYM: You are such an interesting and inspiring person in the yoga community. Thank you for sharing your story, philosophies and obstacles with everyone.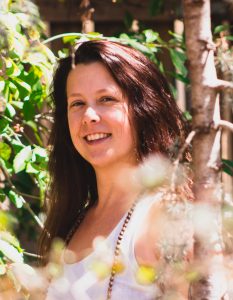 More Information:
People can sign up for Daphne's Newsletter on her website www.GoddessesOfLight.com 
Daphne Moon will be teaching a class at the Cosmic Yogi Festival on June 2, 2018 at the Addison Conference and Theatre Centre. Go to www.CosmicYogiMovement.com for scheduled class times.