Explore the Wellness Expo
Explore the Wellness Expo
Something for every body, mind & spirit
By: Amy Jo "AJ" Crowell, Publisher Dallas Yoga Magazine & Co-Founder Cosmic Yogi Movement
The Wellness Expo returns April 28th and 29th from 11am-6pm to the Addison Conference Centre. One of the most popular and well-known expos and festivals in the holistic and wellness community, it is back with more surprises and activities than ever! The Expo's slogan "something for every body, mind and spirit™" gives you a glimpse into the warm, welcoming and healing feeling that flows throughout.
This will be the third time Dallas Yoga Magazine has had a booth at this weekend event. We have met so many wonderful, like-minded people and always look forward to it. The founders of the Expo are Felicia Weiss and Tony Cecala and they are some of the kindest, most giving people we know. They have been a part of the holistic community for decades and have not only brought those in the lifestyle closer together, but have introduced many new people to the community. They previously published the Holistic Networker, a Guide to Wellness and Personal Growth, and have continued on their journey of helping others. In fact, they have been producing the Wellness Expo twice a year for 24 years!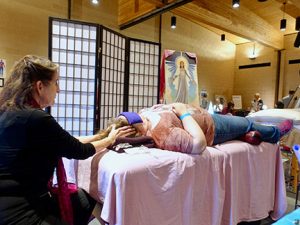 Featured at the Wellness Expo are over 100 exhibitors with an assortment of treasures, including energized jewelry, stones and essential oils. One of the best reasons to go to the Wellness Expo is to meet with one of the intuitive consultants for guidance or to have your tarot cards read. You can also visit with an energy healer, get a massage, talk to someone about medicinal herbs, learn about holistic medicine, and grab a vegan delight from the Down to Earth food truck.
Make sure to stop by the Avatar Course booth and visit with Tony Cecala to be introduced to Avatar. It is a nine-day self-evolvement course that shows you how to have a happier, more empowered life. Along the journey you will discover who you are and who you are not. You learn these things by self-discovery rather than by dogmatic teaching.
The perfect addition to the Wellness Expo is "Yoga on the Lawn." Dallas Yoga Magazine will be leading classes on both Saturday and Sunday at 3:00pm during the Expo. Bring your mat, bring your kids and bring yourself for a free yoga class!
This year the 24 Expo speakers are amazing and will be discussing a vast array of topics. There is something for everyone. I enjoy going to the speakers on topics I'm not familiar with because it gives me some insight so if I am interested, then I can further explore. Of course, you can also find me at the speakers, who are sharing about topics I'm already acquainted with because there is always something new to take away. The speaker list is full of experienced professionals with much to share. Here is the line-up for this April:
Past Life Healing,
Lisa Chalmers, CHt., CPLR
Spiritual Insights,
Psychic Jennifer Hall
When do I need an Urgent Care?,
Sherry Lansdell, RN, MBA
Hormones Balance Everyday,
Dr. Aldo D'Aversa, DC, Dip. O.M., C.C.E.P.
Playing Big to Achieve Abundance,
Dagmar Fleming
We are Channels Everyday, Come & Experience the Channel You Are Being,
Joy Kauf
Spirit Speaks,
Dr. Gary Berman, DC, NMD
Finding Equilibrium in Times of Stress,
Dr. Drew Neville, DC
Angels, Angels, Everywhere!!,
Linda West, MA, CATP, Metaphysician
Integrative Medicine,
Dr. Wm Sheppard, PhD (Dr. Bill)
The Healing Power of Holographic Sound,
Paul Hubbert, PhD
Intuitive Gallery,
Morrighan Lynne
How Does Your Past Life Resonate with This Life?,
Leslie Anne, Spirit Translator
Tapping into Your Inner Guidance with Tarot,
Arthur Graye
Tips and Tools for Clearing and Protection,
Roger Welch, Co-Owner of Soultopia
Nourish Your Adrenals, Naturally,
Charles Barber, Epigeneticist
Energy Healing & Medicine,
Dr. Jennifer Laing, MD
Healing with Light Language,
Catherine Cates
The 10 Key Secrets to Intuition,
Lisa K.
Quantum Biofeedback & Consciousness,
Dr. Velvete Womack, PhD
View from the Other Side,
John Cappello
Healing from Around the World,
Starr Fuentes
Spiritual Physics: Multidimensional Healing,
Neil
Panel Discussion on Guidance- ($20 cost),
Joy, Neil, David, John, Chuck & Arthur
I am so excited about "The Panel Discussion on Guidance". The panelists' experience and insight will make it well worth going. Join some of the best psychics, mediums, healers, and channels in the Dallas Forth Worth Metroplex. Including Joy Kauf, Neil Marshal, David Scott, John Cappello, Chuck Murphy, and Arthur Graye for this unique panel discussion. They will focus on how your angels and guides are always listening and answering your questions. Listen…do you hear them? This unique panel will teach techniques from many facets of metaphysics.
Tickets for the Expo are $7/day or $10 for the weekend. Adults over 65 and children 12 and under are free. You can purchase discounted tickets and find out more information online at www.wellnessexpo.net