Boost Your Sex Drive
These 5 Herbal Supplements Will Work
By: Kurt Darrell
Conventional medicines that boost your sex drive may not be as beneficial as you think, and the effects of the medicines do not last long. Most sex-boosting medication, such as Viagra, works by temporarily inhibiting a hormone that regulates blood flow to the sexual organs.
Chemically altering or inhibiting hormones within the body is not the healthiest way to increase the sex drive. However, there are herbal supplements that can boost your sex drive without stimulating the body with artificial chemicals. These 5 herbal supplements can boost your sex drive naturally, and the effects last longer than other conventional medications.
Saw Palmetto Berry
Saw Palmetto is a palm that is native to North America. The plant is hardy, and some can live to be over 700 years old. The fruit, which is brown or black in color, treats a variety of health conditions, including impotence and increasing libido.
While the fruit is known to increase libido in both men and women, it is most highly researched and praised for its ability to treat impotence. Despite the fact that the manner in which saw palmetto affects the organs and hormones is still unknown, extensive research has proven that it can boost sexual performance and increase virility.
Additionally, the saw palmetto berry can address low sperm count, hair loss, headaches, inflammation and increase the body's level of testosterone production.
Damiana Leaves
Damiana is a shrub with yellow flowers that is native to Texas, Mexico, the Caribbean, Central America, and Brazil. The origin of the name is from the Greek word "daman" or "damia," which means "to tame or to subdue." This feminine version of the word infers that the damiana is the one "who tames." The herb was popularized by the Aztecs and the Mayans through trading.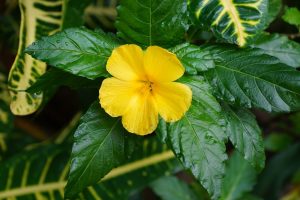 The leaves are considered to be a libido enhancer and have been used to treat erectile dysfunction and anorgasmia. It works by increasing blood flow and stimulation to the reproductive organs. In addition to affecting sexual desire, damiana is also used as a relaxant, digestive stimulant or mood enhancer. The leaves can be brewed into a tea, used in herbal smoking blends, powdered or put within capsules.
Maca Root
Maca is a type of vegetable that is similar to radishes or turnips and is native to Peru. These roots are usually green on the top with roots that can range in color from yellow to purple and black. This superfood has been consumed for health benefits for thousands of years and is considered to be a plant that helps the body adapt to stress. In addition to having an excellent source of protein, fiber, vitamins and minerals, this root has been shown to improve sexual health, balance hormones and improve energy, mood and memory.
Maca root can increase sexual desire, improve sexual dysfunction, balance female hormones and alleviate symptoms of menopause, while supporting the overall health and wellness of the body.
Kratom Extract
Kratom is a tropical evergreen tree native to Thailand, Malaysia, Indonesia and Papua New Guinea. Kratom leaves have been used as an herbal drug by people from Southeast Asia as a stimulant at low doses, a sedative at high doses, a pain killer, medicine for diarrhea and as a treatment for opiate addiction.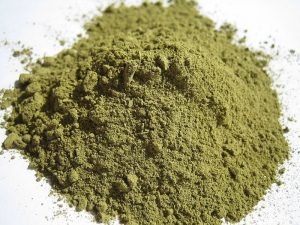 However, one particular red vein strain of Kratom, Sumatra, produces calmness, relaxation, pain relief, increased sensitivity to touch and improves the libido. This red vein extract gets its name from the island where it is grown and has been used for centuries by locals for these beneficial effects. Once consumed, the effects of Kratom begin within 1 hour and can last from 3-6 hours.
You can buy kratom extract in powdered form, capsules, or tea. You can mix the powder with water, juice or milk according to your preferences. Chocolate milk and kratom powder is the preferred mix because the sweet chocolate easily masks the taste of the kratom powder.
Pine Pollen
The earliest record of the medicinal use of pine pollen dates back to a text from China during the Han dynasty, which was over 2,000 years ago. Since then, the pollen was continued to be used throughout Asia for its nutritional value and ability to boost energy and build the immune health of the body.
Pine pollen contains more than 200 vitamins, minerals, enzymes, antioxidants, and amino acids, making this herbal supplement more than just a sex drive booster but also a supporter of overall body health. In addition, pine pollen is a source of phenylalanine, which stimulates dopamine, a neurotransmitter which interacts with the reward and pleasure centers of the brain. This can have a direct impact on a woman's ability to orgasm and increase sexual desire.
In addition, because pine pollen contains high amounts of testosterone, androgens and phytosterols, it is often used to balance sex hormones, such as androgen and estrogen, within the body.
Author Bio:
Kurt Darrell is a Colorado resident and an active medical and recreational cannabis contributor in various blogs and online publications. He works with several cannabis companies to help them understand consumer insights regarding marijuana products and consumption. He also engages in volunteer work whenever he's free.