Interview with Wah!
Empowering with Kirtan
By: Erica Mestyanek, Editor Dallas Yoga Magazine & Co-Founder Cosmic Yogi Movement
Chances are, you have heard Kirtan music by Wah!, probably in your yoga classes. She was the first female to bring Kirtan music to the west in the 90s. She has spent the last 20 years touring and performing throughout the world. She will be at Urban Yoga in Fort Worth, April 13th – 15th leading the Healing Women's Retreat. (You can purchase the entire retreat for only $200 if you book by April 1st!)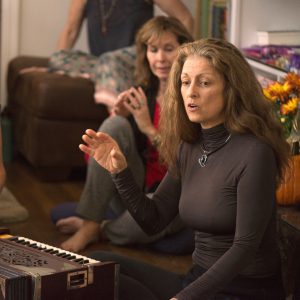 When did you realize music was where your passion was? I was really born into it. My mother was a classical violinist and my father was a jazz lover; playing guitar and trombone and since we had no TV, everyone played an instrument. When I got into yoga, it was only natural to include the musical side of it. I still think it's fascinating to combine the two.
Tell me about your tours and events you are focused on? My primary focus right now is my Healing Concert. Those are typically at Planetariums or museums with high ceilings that can project my beautiful lights. I also like to support yoga centers since that is my background. The workshops that I have help improve your communication and your spirituality. At these events, we do various things someone can do for self-care including yoga and Ayurveda. It's about connecting the mind, body and spirit. Healing all of those parts together, not disregarding the mind and emotion. If you're able to create a beautiful world on the inside, your body heals faster. Then you're happier and you feel closer to your life's purpose. All of this works together to create a beautiful, stronger and smarter you. I met Surya Barrow in San Francisco and we decided to do something together to serve the community.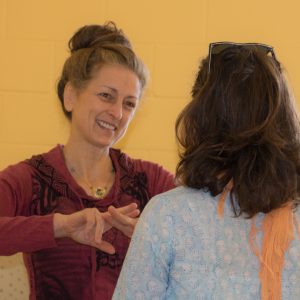 Can you share more about the event you are doing at Urban Yoga in Fort Worth with Surya? So the event is led by me. I will be leading a yoga class Sunday morning and we are calling it "Yoga and Self-Healing" so everyone understands we will be tapping, stimulating, breathing and body drops and other things that include self-healing as well as moving Asana's. The afternoon program will be meditative exercises including toning or singing a note, meditative exercises, dialogue; so you can come with a partner, family member or friend to share the things you are experiencing and then with the group as well. We will talk about the three different types of brains and understanding what they are experiencing and what challenges they are facing. We don't all see rainbows and swirly clouds when we close our eyes to meditate, it's nice to know what other people are going through. We are pretty compact in our schedules, so we want to make sure when you get time alone that it is really beneficial and that you are caring for yourself in a way that helps the rest of your day.
You can learn more about Wah! By visiting her website, www.wahmusic.com. To learn more about the upcoming Healing Women's Retreat, you can visit www.urbanyogafw.com.